Sometimes it's about more than money. We've seen some amazing benefits offered from some employers and a great benefits package can really make you seem like an attractive company to work for. With the pandemic, we have seen certain shifts in priorities to things that may not have ranked so highly before.
Here are the benefits we think are important, backed by our own candidate research.
Remote working options
Many employers now offer remote working options, either by choice or out of necessity. Our research found that 76% wish to work in a hybrid of both home and the office and home. 21% said they wanted to work completely from home with a tiny 3% saying that they want to work completely from the office.
How would you like to work in the future?

Further, we asked, if you were to work between home and the office, how many days would you wish to spend in the office.
How many days a week would you like to spend in the office?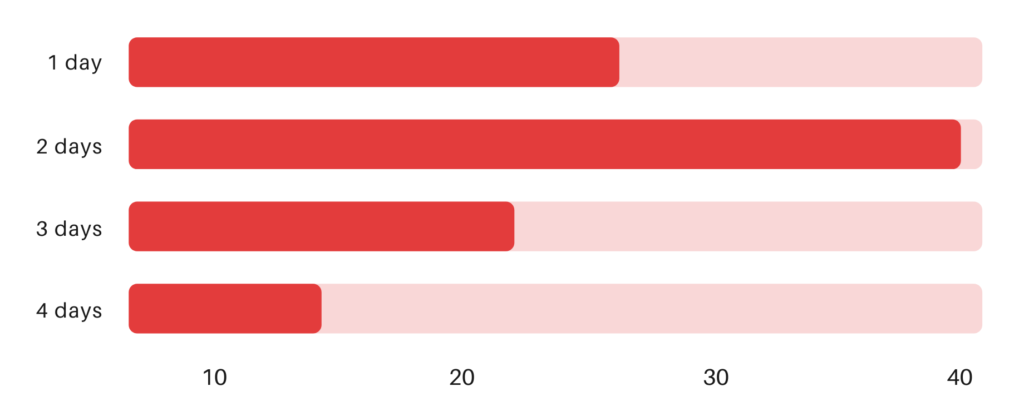 A clear majority said that they would want to work 2 days in the office.
This gives us a clear picture that a flexible working environment with 2 days in the office would be appealing to the majority.
---
STANDARD BENEFITS
Standard Benefits we are seeing in the market for permanent employees include:
25 – 30 days annual leave
Healthcare for whole family
Life Insurance
Pension contribution
Annual Bonus
Flexible working hours
Sports & Social Club
Death In Service
Bike to work (Free)
Gym / Wellness or Sports Club Membership
Less Common Benefits
Some less common benefits that are becoming more popular:
1 Duvet Day a Quarter
2 paid volunteer days per year of employee's choice of cause
Paid home office equipment package
Company Sponsored Personal Development Plan
Dental Plan
Increase in paid sick days – some clients now offering up to 10 days a year
Mental Health Workshops
Unlimited Days Off (US FDI Companies bringing this in)
Signing on bonus (US FDI companies – payment spread over time)
Some incentives for Contractors:
Offer Longer contracts from outset – candidates want security.
Completion Bonus (only payable on successful completion of
full term of contract):
This can be in addition to day rate e.g €500 per day + Bonus or
part of day rate e.g agree rate of €500 per day, pay €470 per day and the contractor accrues €30 per day for every day worked that is paid as a contract completion bonus.